Insurtech and Innovation: A Q&A With Hemanth Sampath
Read our conversation with VP of Strategic Partnerships at Assurant, Hemanth Sampath, where he talks all things Insurtech and how Assurant is innovating renter solutions.
What's your role at Assurant?
I lead affinity sales as VP of Strategic Partnerships for Assurant's Global Housing business. My team's role is to establish B2B partnerships in new market segments that we don't currently reach through our traditional line of business sales. For example, the Renters Solutions team is focused on property management companies for renters insurance and security deposit solutions. We similarly promote additional product lines, like condo and manufactured housing, in certain market segments.
So, the goal for affinity sales is to uncover new and nontraditional channels (like InsurTech, FinTech, PropTech) so that we can reach additional customers and offer them multiple Assurant products. We do this by researching and monitoring the market and competitive landscape. We then apply those insights by making changes to our products, our processes, and our capabilities to better serve and compete in multiple market segments.

We're hearing a lot about insurtech in the industry. What exactly does that mean and how should we expect it to impact Multifamily Housing and related industries over the next few years?
Broadly, as the word suggests, it's a combination of insurance and technology. Insurtech really started as technology companies that were trying to disrupt the insurance space across several areas, all the way from sales to claims, and everything in between. At the same time, they want to bring improvements to the entire insurance process. It can include everything from technology that automates tedious manual processes to artificial intelligence that helps route customers through the right payment, claims, or support processes.
In some instances, technology companies didn't have the right insurance expertise, leading to poor experiences and results. At Assurant, we bring our insurance expertise and technology together to be a partner that can enable our clients and evolve with them.
We can expect technology to have a major impact on the Multifamily Housing and related industries in the next few years. Clients want to offer value-added products, like insurance, to their customers. We have these products and capabilities, and we can embed them very conveniently at different touchpoints in the customer journey. We're making it seamless for customers to buy insurance. Today, around 90% of Assurant's claims process happens digitally and we're continuing to invest and innovate there as well. We're seeing that this digital enablement from sales to claims improves overall customer experience and lowers cost.
It's up to us now to continue evolving, which means weaving together automation, AI, machine learning, to provide personalized insurance, protection products, and support services when and where our customers need them.
What is APEX and why is it important to companies that engage with renters?
APEX was developed in recognition that the world is increasingly digital. And we want to meet our customers when and where they want to buy our products. It's critical to our business since it allows us to embed our products within the client's workflow. If a customer is looking to buy insurance, they can do that within that client's platform or site. As recently as three years ago, most people signing leases would do it in the leasing office. Now, 63% of renters say they'll do virtual walkthroughs and sign a lease without seeing the space in person.[1] This means they're there to buy their renters insurance at this point of sale.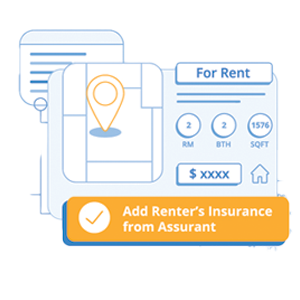 APEX: Embedded Insurance Solution for Multifamily Housing
Take customer relationships and revenue to new heights. Through seamless API integration, it enables our partners to integrate the right protection, support or service options quickly and easily into their online ecosystem.
In terms of engagement, both during the sales process and when we onboard a client, we spend time understanding their business, customer touchpoints and workflow. One of our recent studies suggests that people are up to 32% more likely to close a deal if they're offered protection at the point of the sale.[2] So what APEX really does, is to deliver our renters insurance product, as an example, at the right point of time, making it easier for renters to check off another item on their moving to-do list. Beyond that, our affinity partners benefit from the flexibility of our products integrating right into their workflow in a relatively short amount of time, allowing them to deepen those customer relationships.

But what about human expertise? Is that becoming less important?
Human expertise continues to be the most important, differentiating factor I see across the entire industry. If we just take claims for example, I think renters insurance claims often fit into the 80/20 paradigm. Roughly 80% of renters insurance claims could be managed completely through automated, AI-driven processes with no human interaction. And it's good for those 80% of claims to be handled that way. It leads to faster resolutions, and it allows the customer to be in control of the process.
But the other 20% of claims, the ones that need human expertise, exist because technology can't take the place of human intelligence. It could be that the claim is nuanced, the issue is unique, or a variety of other factors. And that's just for a routine process like claims management. Now think about all the nonroutine work that happens in our industry — like customized integrations, compensation structures, and help navigating through complicated issues. Technology is designed to help us streamline routine processes and make nonroutine processes more accessible, but that also includes making human expertise more accessible through technology. If anything, the existence of technology makes the human factor even more important.


Assurant was recently awarded Fortune's Most Innovative Companies Award for 2023. Do you feel APEX was a part of that?
I think the APEX build-out was a very important aspect of why we won the award. I'm sure several other factors went into it. But it also speaks broadly to Assurant's history of innovating. And innovation is not just limited to technology capabilities, but also to our products, the processes, and so much more.
Through APEX, we can integrate our world-class solutions to help drive more revenue and better experiences for our clients' customers. It allows our clients to customize and easily add embedded insurance and protection programs, support, and services to meet their customers where they are. Before integrating, clients can securely view our product API library, as well as test and review data they provide. Our own research has shown that offering support and protection products at the point of purchase increases purchase intent by up to 32%2, as I mentioned earlier, helping to generate more digital sales — whether through APIs, customized websites, or directly embedded into websites. That means these types of experiences can not only help retain customers, but also be growth drivers. This understanding was the inspiration — the innovation — behind our development of APEX. And I think just the way that whole process comes together is a significant innovation win for us.
Tell us about the recent partnership with Updater.
Updater is a leader in the move services space, so it's a very exciting partnership. Through our partnership with Updater, renters have one place to complete all their required move-in tasks, including fulfilling their renters insurance requirement. And, going back to this idea of digital onboarding, this is a perfect example. Property management companies use Updater's digital tools to create that seamless onboarding experiences for new renters. Renters moving to a property are guided through a digital checklist to meet moving-related needs, like buying renters insurance, transferring utilities, signing up for internet and TV services, obtaining packing supplies, and more. Assurant's products will be available in the Updater app for residents of properties that require renters insurance. Residents can seamlessly purchase and, in certain cases, bundle the premium with their rent payment. It's a great example of how we make it easy for affinity partners to work with us and how we're making it convenient for renters to buy insurance.
Click here to learn more about our Updater partnership.